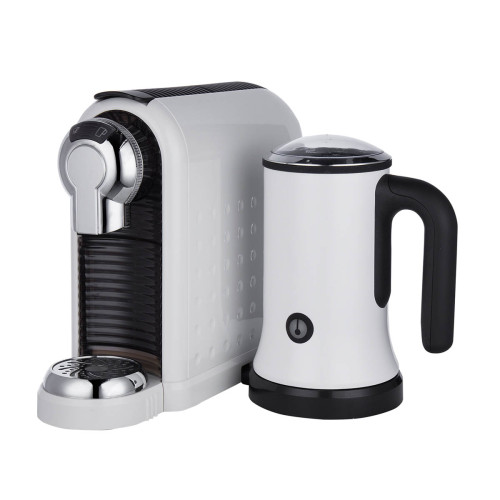 Capsule Coffee Machine With Milk Frother
Description
1.

Power: 1260W, thermo-block heater
3. Transparent removable water tank.
5. On/Off switch with illumination
6. Short Espresso (25s)/long Espresso (40s) with LED in white, volume can be customized, controlled by timer.
7. Coffee capsule bin with max accommodation of 10 used capsules .
8. Capsule auto ejection system.
9. Adjustable dispenser for various cup.
10.Can Manually stop or auto stop
11.Patented brewing group & residual pressure discharge system
12.Stand by for 15 minutes.
13.Compact size: 118(W)*365(L)*250(H)mm
2. Capacity: 150ml for milk frothing or 300ml for milk warming
3. Dual function: to frother either hot or cold milk, indicated with red and bule light.
4. Power: 220-240V 50/60HZ 450W or 110-120V/450W
5. 360°cordless otter connector
6. Heats milk to arround 70℃+/-5℃
7. Non stick coating inside for easy cleaning
10.One touch rubber button
11.Transparent top lid wrapped with SS rim
12.Min and max level mark
3.Lavazza blue & modo mio system